Be in time!
The transport from here can get you anywhere.
Bucharest's public transport system is made up of the Bucharest Metro (signed with big "M"), and a surface transport system run by RATB , which consist in buses, trams, trolleybuses and light rail.
The city's roads are usually very crowded during rush hours. Every day, there are more than one million vehicles travelling within the city.
METRO
The Metro is by far the fastest way to travel around the city, operated by the Metrorex. It is reliable, comfortable and easy to navigate in; the only downside is it does not cover all areas of Bucharest.
It was mainly built during the communist period: 4 lines (and 1 under construction since forever) with 51 stations (all of them with a different design). Speaking about stations, some of them are really interesting are a must for subway fans (Titan, Politehnica or Piata Romana).
The metro trains schedule operate between 5:00-23:00. We don't have yet a line to connect the city to the airport but, of course, is under planning.
Tickets have decent prices and are sold in 4 forms: 2 trips – 5 lei, 10 trips – 20 lei, daily ticket (only to be used by one person) – 8 lei, monthly ticket (only to be used by one person) – 70 lei. You can buy them from any station from the cashier or selling machines.
Pending on the lines and hours, metros can circulate at intervals between 2 and 10 minutes.
You can check the metro map and schedule here.
Beware, the dotted lines are just planned to be constructed, not in use for the moment.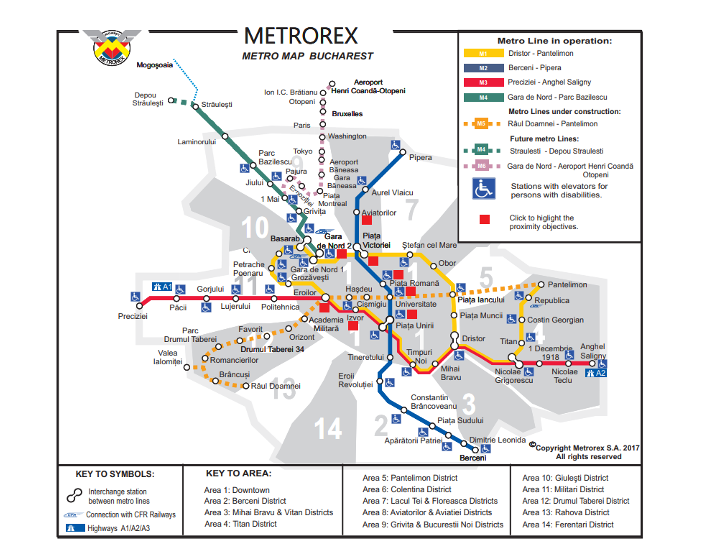 BUSES & TRAINS
Bucharest has hundreds of bus and trolleybus routes, and tens of trams, serving every part of the city as well as a number of suburban villages and outposts.
Buses and trams run at frequent intervals from very early in the morning (around 04:30) to around 22:50 (earlier at weekends), after which the night buses takeover. These serve all areas of the capital throughout the night, with all routes departing from Piata Unirii. Most night bus services run at hourly intervals.
Bucharest Trolleybus Route Map
TAXI
Usually considered a nightmare for tourists, they are in fact quite good and safe if you follow just a couple of simple steps.
First of all they are cheap: just 1,39 ron (0.3 euro) per km, making them one of the cheapest in Europe and even in Romania. Secondly, they are fast, even (or because) the drivers are very experienced in traffic, know all the shortcuts to avoid traffic.
An official taxi has to be yellow, have the price written on the door (the standard and lowest is 1,39 but you can find more expensive also) and to have the company's logo visible.
Legitimate taxi companies are: Speed, Meridian, Leone, Sprint, As, 2000, Pelican.
At the airport, the taxi order and pick up process has been facilitated via touchscreen consoles where you can order your taxi while still in the lobby. This way you can see the price and the company, before ordering. Just FYI, a standard fee from the center to the outskirts is 15-20 and a trip to the Airport is around 30 lei.
To get to UPB, you can use the following public transport:
Subway (subway stations Politehnica and Grozavesti)
Tram (tram lines 1 , 10 , 34 , 11)
Bus (bus lines 336 , 136)
Trolleybus (trolleybus lines 61 , 62 , 69, 90)