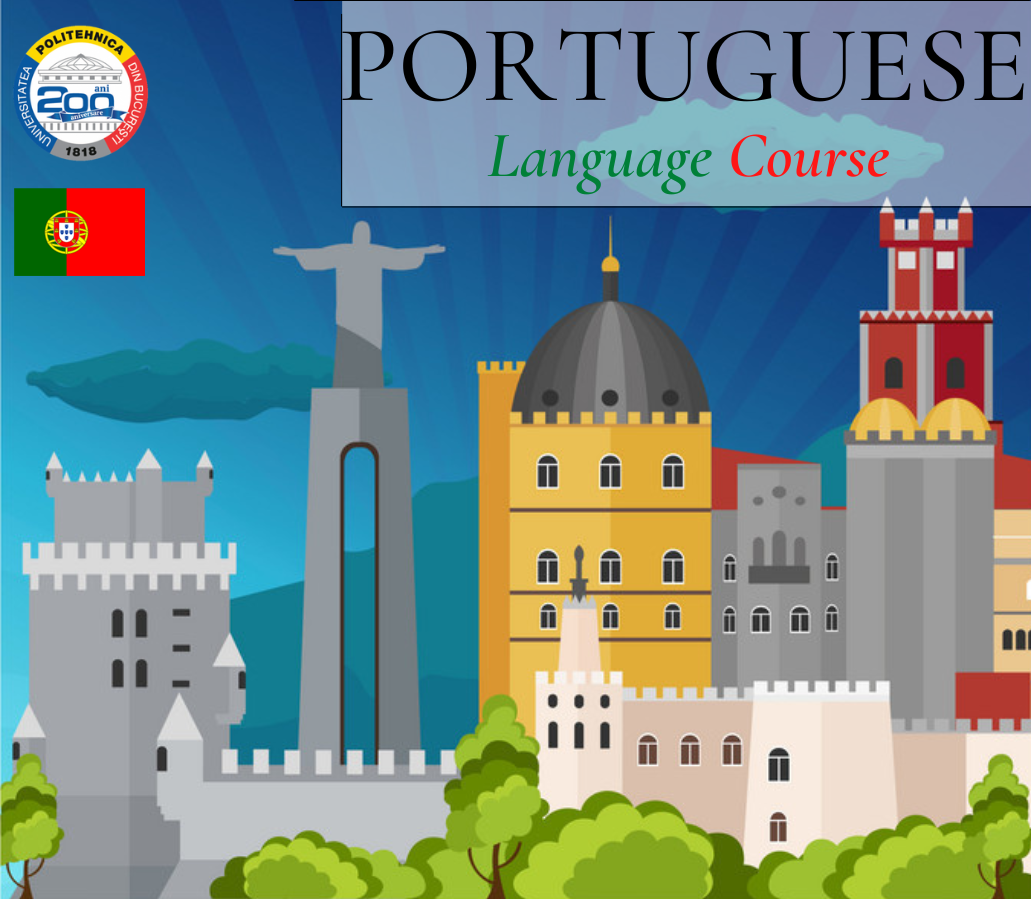 Optional Course (Beginner) of Portuguese Language (free of charge)
About the course
The course will be held through the Faculty of Engineering in Foreign Languages and it will be delivered by an experimented teacher, trained in Portugal and Brazil.
The course is addressed to all those interested in learning Portuguese language and culture. All the learning materials will be provided by the university. It will be structured according to levels, each level of the course containing 4 hours/week.
At the end of the course, students will receive a graduation diploma, which will give them the opportunity to apply for the international exams organized by CAPLE (O Centro de Avaliação e Certificação de Português Língua Estrangeira), for European Portuguese, and CELPE-BRAS (O Certificado de Proficiência em Língua Portuguesa para Estrangeiros), for Brazilian Portuguese.
Why study Portuguese?
It is the sixth most spoken language in the world;
It is ranked as the third among the most spoken languages in the Western Hemisphere;
It is the most spoken language in the Southern Hemisphere;
It is the mother tongue of over 250 million people;
It is the official language in 9 countries around the world.
In this course you will:
Learn basic conversational skills;
Learn Portuguese vocabulary, grammar, pronunciation, sentence structure;
Understand the differences between the Portuguese and Brazilian variants of Portuguese;
Practice writing and speaking and get an introduction to Portuguese and Brazilian culture;
Get an insight of the events organized in Romania by the Portuguese speaking community.
INFORMATION
Enrollment
February, 2023
Duration: 2nd semester of the 2022-2023 academic year (four hours a week).
Admission capacity
Groups of 15-20 students will be formed.
Application period
November 24, 2022 – January 16, 2023
Eligibility
UPB students from all study cycles can sign up for the selection.
Selection process
Selection is made through document screening, based on the evaluation of the submitted documents.
Application requirements
The applicants must submit the documents mentioned in the application form.
General criteria for eligibility
To be eligible for the Spanish course, students:
| Criteria | Score |
| --- | --- |
| 1. Academic performance (average academic score) | 30 |
| 3. Motivation Letter | 30 |
| 4. Curriculum Vitae (scholarships, competitions, projects etc.) | 40 |
Academic performance (0-30)
A student with an average academic score of 9,50 or higher, will receive 30 points;
A student with an average academic score between 8,50 - 9,50 will receive 20 points;
A student with an average academic score between 7,50 - 8,50 will receive 10 points;
A student with an average academic score less than 7,50 will not receive any points.
Motivation Letter (0-30)
The score is 30 points. The motivation letter is expected to have at least 250 words and to support the applicants desire to join the course in a clear and concise style.
Curriculum Vitae (0-40)
CVs with extracurricular activities will receive a maximum of 40 points;
CVs without extracurricular activities will receive a maximum of 20 points.
Announcement of the application results
Announcement: By 20th of January 2023 by email.