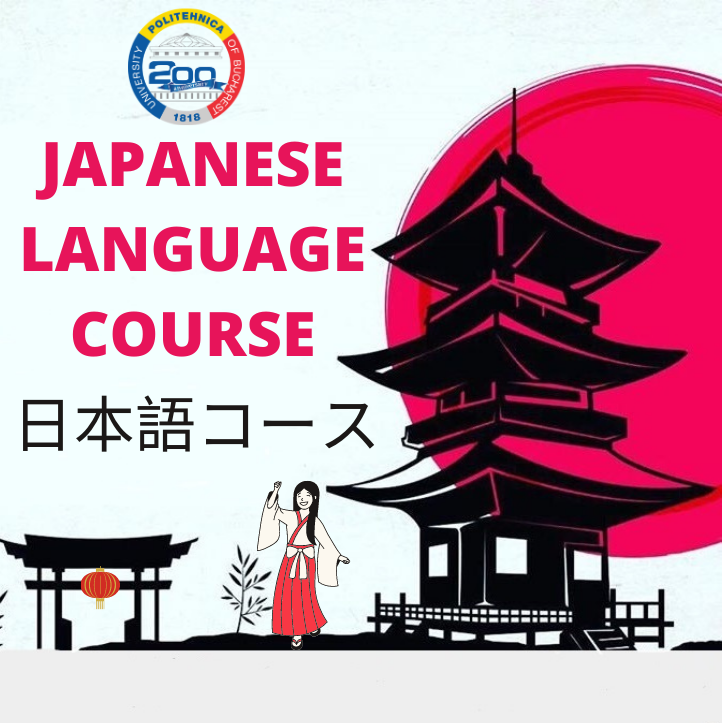 Optional Course (Beginner and Intermediate) of Japanese Language (free of charge)
About the course
The course will be held at the Faculty of Engineering in Foreign Languages and it will be delivered by an experimented teacher who lived for 11 years in Japan, studied and taught Japanese language and culture to students from leading Japanese universities.
The course materials will be provided by the university. Also, each level of the course has a 4 hours per week structure.
In the academic year 2022-2023, UPB organizes two courses, one for beginners (who have never studied Japanese before), and one for intermediate students (limited to the students who have graduated the beginner course in the academic year 2021-2022 or students who have already reached the A1 or A2 language level).
At the end of the course, students will receive a graduation diploma from UPB. Afterwards, they can apply for the international exam of Japanese language JLPT (Japanese-Language Proficiency Test) N5 (CEFR A1-A2) for the first year of study, N4 (CEFR A2) for the second year of study.
In this course you will:
get more insight and knowledge about the country and its people;
learn about language in general - differences compared to European languages;
understand intercultural differences;
learn basic vocabulary, read and speak simple sentences.
INFORMATION
Enrollment
October, 2022
Duration: 1 year (two semesters, four hours a week).
Admission capacity
Two groups of 15-20 students will be formed.
Application period
May 6 – September 1, 2022
Eligibility
UPB students from all study cycles can sign up for the selection, except doctoral students in the extension period.
Selection process
Selection is made through document screening.
* Within the screening process - based on comprehensive evaluation of the submitted documents - applicants will be granted admission if the number of applicants does not exceed the course capacity.
Application requirements
The applicants must submit the documents in the application form.
General criteria for eligibility
To be eligible for the Japanese course, students:
must have not repeated any year of study;
must have not any failed exam from the last exam session.
| Criteria | Score |
| --- | --- |
| 1. Academic performance (average academic score) | 30 |
| 2. English proficiency level | 20 |
| 3. Motivation Letter | 20 |
| 4. Curriculum Vitae (scholarships, competitions, projects etc.) | 30 |
Academic performance (0-30)
A student with an average academic score of 9,50 or higher, will receive 30 points;
A student with an average academic score between 8,50 - 9,50 will receive 20 points;
A student with an average academic score between 7,50 - 8,50 will receive 10 points;
A student with an average academic score less than 7,50 will not receive any points.
English proficiency level (0-20)
A student whose mother tongue is English or has a proficiency level equivalent to CEFR C1 or C2, will receive 20 points;
A student with an English level equivalent to CEFR B2 or a student who studies all courses in English, will receive 15 points;
A student who studies all courses in English will receive 15 points;
Otherwise 0.
Motivation Letter (0-20)
The score is 20 points. The motivation letter is expected to have at least 250 words and to support the applicants desire to join the course in a clear and concise style. The selection commission will give 30 points to exceptional applications.
Curriculum Vitae (0-30)
CVs with extracurricular activities will receive 30 points;
CVs without extracurricular activities will receive 15 points.
Academic performance will not be taken into consideration here.
Announcement of the application results
Concerning the students who have finished their first year of Japanese language course, they are kindly asked to enroll for the intermediate course between June 1st – 30th.